COME PARTY WITH THE PHENOMINAL BILLY WALTON BAND
AND TONY MART'S THIS SATURDAY, JANUARY 10, 2015

Come celebrate what would have been Tony Mart's 101st birthday this weekend with a free party dance concert starring our own Jersey Shore guitar hero, Billy Walton ... Learn More

FREE SHOWS AND FETIVALS TO WARM THE WINTER AND EARLY SPRING
Tony Mart Presents is proud to announce that it was recognized by Big City Rhythm and Blues Magazine at their New Jersey/ New York awards ceremony Saturday, November 29, when they presented a "Keeping the Blues Alive" Lifetime Achievement Award to our company.

To celebrate the spirit of the award Tony Mart's will keep the blues and rock 'n roll alive with its
FREE
winter concert series, January 3 and 10; a special Mardi Gras show on March 21; and "Spring Fresh Craft Beer and Wine Fest" on April 18.
Learn More
CRDA Summer Concert Series: The Tip of the Iceberg That Must Emerge
Our Atlantic County based company, Tony Mart Presents, is grateful to Atlantic City, Atlantic County and New Jersey officials, especially those at the CRDA for the government support and the opportunity we have been given.

Read more of this editorial from Carmen Marotta...
Tony Mart T-Shirts Are Now Available!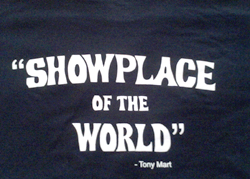 Back