LET THE GOOD TIMES ROLL!
Tony Mart Presents. . . . Music, Food, and Fun!

Saturdays 12noon to 1pm ~ Radio WPG 1450AM or 104.1FM

View This Week's Line-up... Listen Live... (System requirements may apply.)
Musical Joy of The Tony Mart Legacy, Celebrations of Culinary Excellence, Developments in the
latest Nightlife Indulgences and Tony Mart Travel Club with Preferred Travel... Learn More...

The 4th Annual Rocktoberfest is a traditional German beer, craft beer and wine festival, with German and American Festival Foods and a tremendous array of beers and wines presented by Circle Liquor Store for tasting and enjoyment.

Learn More

CIRCLE LIQUOR STORE AND TONY MART PRESENT

THE 4TH ANNUAL ROCKTOBERFEST

SATURDAY, OCTOBER 6, 2018
With the great resurgence of classic rock enjoyed by people of all ages and the recent international media attention to Tony Mart's as a result of Robbie Robertson's autobiography, "Testimony", there is no time better than the present to create the long overdue book, "The Legend of Tony Mart".
We invite everyone to join us live every Saturday at high noon to share in the stories and reminiscences; your stories and photographs can be sent via email to TonyMarto@aol.com. We'll consider all admissions and include many quotes and interviews from Tony Mart aficionados around the world in the book that will begin in Naso, Messina, Sicily and follow the legacy of Antonino "Tony Mart" Marotta from there to Somers Point, New Jersey after "discovering America" on Columbus Day, 1932.

Place Your Order Now...


$20 plus $4 Shipping.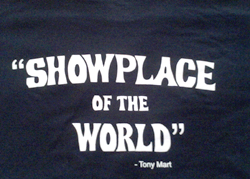 Back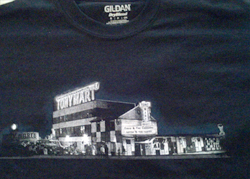 Front
Tony Mart T-Shirts Are Now Available!



Tony Mart - Copyright © 2008 Tony Mart. All rights reserved. Revised:

.

Web Site by Comments to: