Page 1: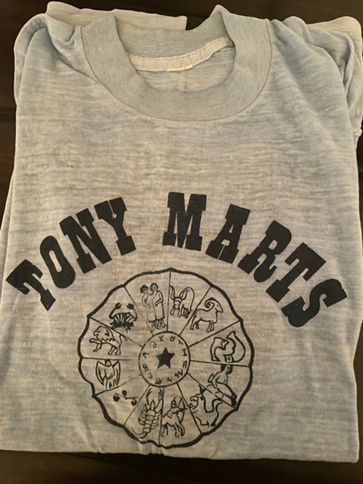 Karen Urbisci: I don't have a story, but this shirt was my fathers shirt I just stumbled across today. It is very fragile I love it!

Randy Margraf: Between the years of 1972 and 1974 I bartended at Tony Marts. As the story goes I was given the opportunity to work at this establishment with the help of friends who work there also. Glenn Everson, Rick Brace And Bob Denofea. The first night I started there I was placed at the front door as a bouncer. For most of the night things went fine and about three hours till closing Tony was sitting in his place next to the door behind the small bar watching all who came and left. He called me over his deep rough voice and said to me," you don't look like a bouncer". I said no I guess I don't. So he asked if I ever bartend it and I said no. So he said, no problem get behind the bar here. He told me to study Mr. Boston's book of drinks and gave me his best points of bartending and bar business. From that point on I moved around the bar to one of the different seven bar locations each week for the next two summers. I couldn't have asked for a better summer job. Beach all day then bar set up at six and back to work at 8 to 830. I lived in a house that we rented on 18th St. in Ocean City with eight other bartenders and bouncers. And we did our beaching at 12th St. in Ocean City every day. Sitting in a circle of 15 to 20 people at a time on the beach shifting with the sun. Great memories.

Ed Gibson: I was the bass Player in the Magnatones we were booked by Tommy Tatler into Tony Marts as the Irish Beatles. Also spent 6 years at the Emerald Room. Playing at Tony Marts was a very big deal you had to play well and entertain.
Pam Nelson: Hey! After I graduated from college in June 1968, I moved to Collinswood, NJ for a job with the state. I spent every weekend at the shore just to go to Tony Mart's. It was the best summer that I've ever had and I'm 74 yrs. old. I reflect on those days often. I also got a Tony Mart's T shirt and bought another one for a friend from NJ that use to go there also. I am from NC and in my older years, I made it back here after living in several states. Anyway, Tony Mart's was and still is the very best "bar" I've ever been. I have such wonderful memories from there. The band that I remember most was "Gunthers Bus." They were absolutely fabulous and their version of "Hush" was incredible. If you would/could get them to play (assuming they're all still alive), I'd definitely drive up there to see them. I would imagine there are some older folks, like me, that would love to see them also. I kept in touch with them until 2003 so I don't know what their situation is now. I also became good friends with a bartender named Frannie. Thank you for reading this, an old woman who still loves rock 'n roll!

Ed Gibson: I was the bass Player in the Magnatones we were booked by Tommy Tatler into Tony Marts as the Irish Beatles. Also spent 6 years at the Emerald Room. Playing at Tony Marts was a very big deal you had to play well and entertain.

Chris Linker: Hello , My first memory of Tony Mart was when I was a kid and my neighbors had a pizza shop down the street across from the Gateway Playhouse. I had an older brother who would go to TM and other places like Gregorys and the Anchorage. I remember that Chubby Checker performed at TM singing The Twist. Later on when I was old enough I had many fond memories of TM as I spent my summers in OC. Like many others who have told their stories of memories of TM I was surprised when watching Eddie and The Cruisers to see TM again after many years away from that era. It is a great stroll down memory lane as I read through the other stories. Thanks Carmen for keeping the legacy alive.

Linda Shingle: I still have a purple t-shirt bought in the early 70's from Tony Marts.

Paul Barry: Who of us grey haired old guys can forget the beautiful TM chicks and dancin' to the R&R of "The Monkey Men" Band performing at TM's in the mid '60s ?

JP Lecours: I am from Montreal, Canada. My parents used to rent a house every summer in Ocean City...My brother and I used to go to TM in the mid sixties. I have such good memories...I only wish I could be 18 again. Thank you TM and all TM patrons for such memories.

Class of 1981: My favorite memory at Tony Marts was in 1979 or 80. Can't remember. It was Tuesday Night "Drink and Drown". $5 cover.... $2 Longnecks.... $3 shots. Something like that. A way to keep the bar going in the winter. Impossible nowadays. I wasn't supposed to be out, let alone in a bar. We were slightly underage with fake ID's. A Mainland High School Band, RACE, was playing and everyone was going!!!! In walks my MOM. I was horrified. I thought I was in trouble for sure. A friend stumbles up with a beer for her and shots. My mom is gone now but I'll never forget my 1st drink with her. A shot at Marts just in front of the stage. She never told my Dad. I realized at that moment my Mom was "cool".

Joe Barnett: One of our usual stops on the other side of the 9th St, Bridge. Most of the time we started at the Anchorage and Ended up at the Pizza Stand across the Street. We were basically broke and all worked jobs on the OC Boardwalk so we could not afford Tony Marts for more than a couple drinks. Watched some good bands there but always remember an annoying lead singer who covered one ear for most of the night. Don't know if he did not like his own band or could not hear properly because of the poor sound mixing, Resorted to 3 rolling rocks pony bottles for 1 rather than risking major stomach problems from the unwashed glasses at the Anchorage. Bayshores had better bands from my vague recollections. Highlight was seeing NY Dolls at Dunes til Dawn. Glad I survived the whole ordeal.

Doug Fusonie: In 1962 and 62 I was a bartender at Tony Marts in summers. During rest of year I was a medical student at Temple Univ Med School. Good job, nice people, great music. Busy, busy place.

Steve Cupani: I worked the door at Tony Mart's from 78-79, the experience was a blast for an 18 year old guy fresh out of MRHS, Carmen hired me but I actually got fired by Tony Junior on 4th of July weekend in 79 after I beat and threw out an aspiring entrepreneur and purveyor of recreational pharmaceuticals in the bathroom that wouldn't take his business outside to the parking lot! Carmen tried to reason with Junior explaining how I was protecting the Liquor License but this was during Juniors Hunter S Thompson "Fear and Loathing" period of life! I went right over to Margate and was hired by Neil Bryers at Gables the same night! Sad thing was that once they changed the drinking age from 18 to 19 in 1980 and then proposed to raise it again in 1982 to 21 the handwriting was on the wall that the end was near for great clubs like Tony Marts! I was there at Marts the second week of September in 1982 when the magic ended, two weeks later on October 1st 1982 I started an almost 32 year career with the ACPD, where over the years I had many dealings with various alumni from my Tony Marts days!

Joe Wick: I used to go to Somers Point every weekend from 1960 to 1966. I remember all the bands, Pete Caroll, Bill Halley, Gabriel and The Angles, Mike Pedican. Lived In Drexel Hill, PA. Went to Upper Darby High 1957.

Sonny Himber: Carmen, when I worked at TM the mgr. was Pete and you were a little kid. Think it was Summers of 1958-63. I worked front bar next to stage with Dick Brunswick. They were the best years of my life. Conway Twitty played there one summer and went on to be famous. I've been in Vegas ten years now and love it here. Thanks for the great memories.

Charlie Falkenstein: We used to rent from Tony Mart, the white house on shore and George St. spent many a Sat. afternoon with my friend (now deceased) Ronnie Ramsbottom listening to Tony stories, (them god damn abumma's). Also one of the high lights of my career was selling the 2 Chevy Nova's that Berringer drove in Eddie And The Cruisers. Really miss those days!

Tony Cherry: I'm Tony from Mace, it was great working for Tony & Carman Mart. The great bands we worked with were so wonderful. Alotta sweat but, the crowds were great there. I'm 66 now but, I think back & just smile about those times. Donny & Buzz are gone now, leaving Jeff, Kenny & me. Well love u all & thank u Tony & Carman God bless! Memory Lane 1970-1972

Pete Snow: Summer of 1971!! I played at Tony Marts for one glorious summer with the seven piece horn band called Tomorrow. We played Chicago, Blood Sweat & Tears and all of the horn driven music of the time. That was the year that Rick & the Rockets debuted their 50's revue. Later, when I saw the movie Eddie and the Cruisers, I was instantly taken back to Tony Marts and the center stage where we stood from 5 PM to 2 AM six nights a week! Great memories!

Mel Davis: I was the organist for the band full house. I enjoyed Tony Marts very much.

Ickle: First went to Tony Marts in 1955. Was working at the Rustic Gardens in OC. Was all of 16. Knew to go in the side door down the alley. Won a Tshirt at amateur night. Also loved Mike Pedicin at Bay Shores and a final beer at Longos. Great memories.

Bill Smith: It was Labor Day Weekend of 1961. Two friends and I had worked all summer on construction and we were between our Junior & Senior years of college. We had never been to the Jersey shore so we decided to celebrate our summer of work by taking a vacation to Ocean City. It was a Friday nite and we walked into Tony Marts and The band the Fall Guys were playing Del Shannon's Runaway. What a night we had dancing and socializing. I came in 2nd in the Limbo contest and won a Tony Marts Fall Guys T-Shirt. I often wonder what ever happened to that T-Shirt. But I always remember that nite like it was yesterday. I am going back to Ocean City next week for the first time since 1961 and really looking forward to visiting Tony Mart.

Bob Ryan: Just came across this site, saw someone mentioned the Point Diner. My mom worked there for 24 yrs, her name was Eleanor. She was hostess/cashier/bouncer on the midnight-8am shift in the summertime. As some of you may remember, if you came in all juiced up and caused a problem, mom would either call the cops or just grab you by the ear and drag you out the door! Mom passed away in Oct. 2008. Anyway, lots of good memories of Tony Marts, Bayshores, The Dunes, and The Attic (remember that one?) Carmen, long time-no see. Glad to see you haven't left. Whenever I get the chance to visit The Point again, I usually go past the old site just so I can remember. Take care and keep this site going!

George Paige: In the summer of 1965 I had just graduated high school and got a job bartending at Tony Marts. Tony and his manager (Pete?) never asked me for my ID and if they had they would of discovered I was only 20 yrs old. Interesting when it came to me having to card patrons at the bar. I went on to work at Tony Mart's for a number of summers after that (including BayShores across the street and The Dunes as well).

But it was in that August of 1965 that I tended bar on Stage #2 where a band played "Levon and the Hawks." They were great guys and we partied several times in their "band' apartment above the club. It was the year of weed, acid and mushrooms. I'll never forget that psychedelic poster on their wall of Jimi Hendrix with colors and graphics that seemed to move with the music.

Of course "Levon and the Hawks" turned into Bob Dylan's electric band and then The Band. That summer inspired me with The Hawks, then Woodstock then years later I'd end up working with major artists like Aerosmith, Bob Marley and the Wailers, Michael Jackson, Marvin Gaye, Edgar Winter, Big Brother after Janis died and The Doors. Today I'm a TV and Film Producer and still working with musical talent. It all started that summer of 65 at Tony Marts in Somers Point.

Pete Martin: I was in The Cut Loose Band. We were there 3 nights a week, hanging with Shotgun a little during down time and Alien used our PA and lighting when they were there. Great times! The first night we played a group of girls said we could stay at their rental in Margate when we asked about nearby hotels. We were from Connecticut and I spent a month straight there without heading back north because it was so much fun.

Jim Weiss: I worked with Fast Cookies Band in 1979. I was there lighting tech. In this version of the band, Dana on bass, Sid on Guitar, Johnny on drums, Bob Noble did not play that year. He was with Dana earlier. He was playing with Auburn from Reading PA. I was with him right before Sid asked me about going to Tony's with them. I used to set off flash pods during the show. Scared a few people who weren't ready for it. We had so much fun that year. We shared the stage with another band I don't remember their name though. Thank you Carmen and Tony for the great memories. I still go to OC every year for vacation.

Bob Potterton: I had a blast at Tony Marts in the late 70"s and 80"s . I worked at the Ank and Mothers, my room mate worked at TM. We all partied way too much ..... Ah the good ole days ! I hung out with Steve Shields and we carried on like crazy kids. Day time employment was at Copper Kettle Fudge and surfing the break off 6th street ! I miss those days.

Kolman M. Kleinbord: I worked as a bouncer on and off from 1958 to 1962. I loved the place and the job. The original building was classic. One of my tasks was to keep people from dancing in front of the band area--which as we all knew was practically the only place to dance in the old building. That was always fun. Learned a lot of diplomacy doing that. The cook always had meatball sandwiches and chocolate milk for me for dinner. I also worked at Bayshores and the Dunes. The Dunes was a real treat getting everyone who was ripped coming in after 2AM closings. Earned every cent I got paid there. When I started to teach in 1962 I stopped working. A great experience and a great time. Hi to anyone from that time.

Herbie Holroyd: Some of the happiest days (and nights) of my life were the summers of '63 and '64. I work the days at the Lincoln Hotel in Ocean City, where my buddies and I would steal cases of beer from the River Boat Club located on the second floor of the Hotel. Although O. C. is a dry town the Ocean County power group (judges, politicians, etc.) had their own private club so we felt like it was okay to steal from them. Like we were Robin Hoods, but really just more like plain hoods.

Anyway after work we all would first go to Bayshores for about an hour or so to try and get lucky. If no one scored off to Tony Mart (I had a insistence that we all call it TONY MART and not Tony Mart's because that was the name on the building…but all my buddies made fun a continued to call the club Tony Mart's). Bayshores was a great place and probably would have been be the best club ever had it not been for Tony Mart. We would stay till closing at 2:00am and then head to the Dunes. My last night ever at the Dunes was the night Harry Anglemyer, an Ocean City businessman (he owned Laura's Fudge) was killed in the parking lot of the Dunes on Labor Day, 1964.

Now I am a lifetime Jersey Shore guy. In fact my New Jersey auto license plate reads "SHORE", and for many years I have experienced all the rock venues from Margate to Wildwood. I have promoted rock concerts in the old Wildwood Convention Hall. Booked acts like Southside Johnny, Marshall Tucker, 38 Special, Kenny Loggins to name a few. But I must say that no place, not even Wildwood in the 70's, compared to Tony Mart in the 60's. One could travel the country a never find anyplace like that corner of Somers Point, NJ. 'The Mart' was simple the best!

Jim Rowbotham: My Tony Mart's summer history goes from 1963 through 1969, covering my years at Bucknell University, then grad school at Wharton. Truth told, I managed to get into Tony Mart's when I was just shy of legal drinking age. By my Bucknell senior year, I and my classmates/fraternity brothers were legal. Along with buddies of mine from Havertown PA and Middletown NY, we'd check in for weekends at one of the Ocean City rooming houses, largely owned by sweet old ladies, hit the Ninth Street Beach during the day, have some cheap eats at either Coach's Corner, the Anchorage, or Gregory's, then make our way to Tony Mart's for great music and a lot of cute babes. The summer of '65 was truly magic because of Ronnie Hawkins and the Hawks, which morphed into The Band, plus the Conway Twitty Band, along with the gorgeous go-go girls. One summer Saturday night that year I spotted Arline DiPetrio, one of the "American Bandstand" cuties from the early '60s. I said to one of my mates "She is really pretty. I'm going to ask her to dance. But first I'm getting another beer…" Tony Mart's was very well-run, with precious little acrimony or fights; that was not the case across the street at Bayshore's, which seemed to attract guys looking for trouble. One of the bartenders there, who was very good at his trade, seemed to have a group of nasty friends; he later worked at Little John's in NY City. The same guys would show up on Friday nights and cause the same dustups. When attending grad school, a group of us rented one of those old ramshackle houses in Ocean City one summer. That enabled us to try inviting babes we met in Tony Mart's back to our house for after-hours partying. At least that was our intent. The entire Somers Point summer scene, with Tony Mart's as the linchpin, was indelibly fun. At various times over the ensuing years I've driven over to Somers Point for a drink at Gregory's or at the Anchorage. They are all that's left of that era. Thanks to the Tony Mart's cohort for the Web site and for keeping memories alive.

Pat (Goll) Levis: I recently found a Tony Mart's sailor hat that I had won in a "dance contest" in the 1960's. I will always have great memories of Tony Marts and Bayshores when I worked (at the College Grill) and lived in OC during my teenage years. I spent many nights there (under 21) with my friends. We loved the music and loved to dance. I still live in Ocean City and wish we could find a place like TM and Bayshores to dance and have fun. Still dancin', Pat.

Michael "Pokey" Walls: Was playing the summer of 66 with the Chartbusters and on the other stage were the Four Reasons. There was a bouncer at Bayshores, across the street, that was SOOO big that two of the Four Reasons performed a whole set in one pair of this guy's surf jams - one in each leg! If Tony called you a "musisha' bum", he liked you (because all musicians are basically "bums"). If he called you idiota - watch out. RE: "Sparkle" the gogo girl - you still pass through a dream or two now & then. :-]

Cindy Arbogast Royer: This is my second entry. Through my 1st entry, I found Greg Arena, front man for the group Night Time Sunshine, played Bayshores in 1970 with Caswell and Crystal Mansion on the second stage. Through him I found Joan Pullia Portor and Sara Trasferini. We are going to Somers Point on Aug 10 - 12th and have a reunion. It's been 44 years. I still did not find John Doty who stood 6'8" and tended bar at Tony Marts. cindysworld14@aol to join our reunion. Staying at the Residence Inn.

Chris Knight: I was a radio announcer at WSLT/AM & FM in Ocean City at 10th and Asbury Ave. I was asked to be an extra in the movie Eddie and the Cruisers and was in the bar scene in the far left. As a Teenager...when the drinking age was 19....I used to drive my boat to the slips at bay shores and trot over to the Mart. You could see the Giant RED neon sign for miles.

Dick Squires: I worked part time at Tony Marts from 1964 to 1968. I was one of the cashiers at the door with the castor wheels on the cash registers, so as to pull them out of the way when anybody was being removed. I will always remember Pete, with all those keys hanging from his belt, and little Joe. Most everybody that worked there would always walk around the place looking at the floor for dropped money. The Bands that lived upstairs and all the people that would pack the place almost every hour it was open. I will always remember Tony Marts.

Dwight Hutchison: Summer of' '62 - tended bar at Tony Mart's - lot's of 'shoobies' coming in on Fridays all wild and excited - leaving Sundays broke and bedragled - back again on the next weekend. Never ending fun, Fall Guys with Joey belting out
'Peanut Butter' -- Pete Carroll whistlin' 'Sweet Georgia Brown' -- Baby Bear keepin' the peace at the door -- Pete Toscano checking our registers. Best summer I had before embarking on a career in Medicine.

Lin Gooch: My grandparents frequented Tony Marts almost every weekend in the 40's and early 50's. My grandfather Albert Wood had the most amazing tenor voice. I've been told that he was called up to entertain and rarely sat down. He was paid with a bottle of booze. When I was a kid I remember seeing all the bottles in his liquor cabinet. He's long gone but those legendary stories remain of the memories of Tony Marts!

Kim Weiland: Hi, Carmen, many great memories of the Marts as one of the 18's with you and Dan Rose, Jeff Frost and Parry Lord etc. One of my first jobs as an artist was painting and lettering the drinks signs for the walls behind the bar.
Great times!!!!!

Susan Rumer Peifer: Just got home from the music pier, what a FABULOUS show!!!!!!So much talent. Loved it.

Jim and Maureen Bigley: Just a short note to let you know we loved the beach concert on Fri night. The Midiri brothers and other musicians were fantastic. We didn't think it could be topped until we went to the show at the Music Pier on Saturday night. Wow! Wow! Wow! It was great. I have watched shows on WHYY which are fund raisers using the rock music from the 50's and 60's and yours was better. Those guys are fantastic. I am sorry we missed the 1 hour 10 minutes you had to cut out. I would love to hear that also. Looking forward to seeing this show again. Congratulations to you and a