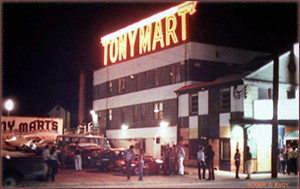 This is a magical picture that captures some of the excitement and ambiance of a night at Tony Mart's. The focus of the picture is the enormous "Follow the Arrow" neon sign that was and probably will forever be the largest neon sign in the city of Somers Point. This picture shows the parking lot to the immediate south of Tony Mart's. The parking lot is where "Steels Ship Bar" stood until it burned in a fire in 1967. Tony Mart purchased Steels Ship Bar, demolished it and made it into the parking lot you see. The small building with the light on top of it, to the left of this photo, was actually a warehouse that belonged to Steels Ship Bar and was then converted into "the ice-house" to be utilized as yet another warehouse and storage area for the Herculean Tony Mart operation. The front apartment over the main entrance was probably occupied by one of the custodian porters at the time, Armando Romero or his brother Abraham.

At this time, in 1974, the rear upper apartments were still occupied by musicians. Mace was living there and may have been performing on the center stage at the time of this photograph.


This is the Mace that performed at Tony Mart's in 1974. They were actually the second Mace with the replacement of the original front man, "Tony Cherry" by a new front man, PJ, who favored several Bruce Springsteen songs including "Rosalita" and "Tenth Ave Freezeout" as their signature dance songs along with The Rolling Stones and David Bowie as "Ziggie Stardust" also quite popular at the time.

In this photograph, are, from left to right, the drummer and leader of the band, Joe Samino, who had a great relationship with Tony Mart. This meant that he was reliable and reasonably priced and he was able to control his group and make certain that they performed on time and played never-ending dance music in order to, as Tony Mart would put it, "Keep the room moving" at all times. The theory was very simple: sweating and dancing sold drinks. Just above Joe standing of the left is the late John Leafhead, keyboard player. In the center is the front man, P.J. and to his right, was the lead guitar player whose name was also John. Below seated on the right was Dave the Bass player. His classic white charger is seen in several of the exterior photos of Tony Mart's from that season.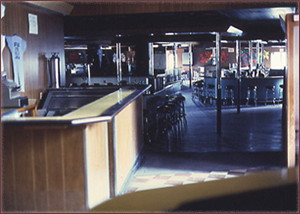 This is a view of the interior of Tony Marts looking forward or eastward towards the front door and the bay. This photograph is taken from the snack bar the farthest back from the front door. To the left is the small "Cherry Bar" and moving forward to the right is the Main Bar with the stage and "L-Bar" on the left further down.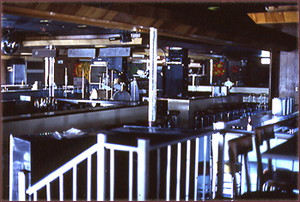 An excellent photograph of the central area of Tony Mart's taken from the stairs leading to the elevated seating area of Jr's Lounge. To the immediate left are the front doors. In the foreground is the "Square Bar". To the far left is the oval-shaped "Main Bar". In the center is the main or central stage with the "L-Bar" stretching around from the right side of the stage and then along from the rear of the stage to the left. Behind the L-Bar is the dance floor and then the "Back Bar" or the draft beer bar. Seated with the white blouse is Maris Evoy, Roger Evoy's wife and faithful Tony Mart devotee. In the right foreground is the very front of the "Lounge Bar". This was a huge bar that was approximately 100 feet long and 40 to 50 feet wide. There was a stage behind this bar to the far right (not depicted). There was also a small stage to the far left behind the Main Bar in front of the air conditioner and in front on the Altec Lansing "Voice