The first big soul bands, Psychedelia and "Heavy" rock.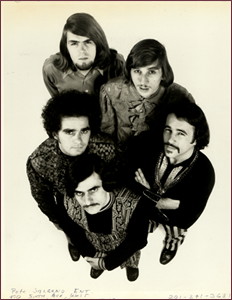 An unusual and rather psychedelic publicity photograph of "Gunther's Bus" truly one of the greatest groups of musical performers ever in the 38 years of Tony Mart's history. Gunther's Bus first appeared in Tony Mart's in 1968 and performed again with some personnel changes in 1969.

Depicted in this photograph is their bass player, Joe; the first guitar player to appear with them at Tony Mart's, Tommy Bittle; and to the far right John Dzubak who replaced drummer "Jerry" who wore a blond, curly, afro-type wig on stage but actually had a crew cut because he was a school teacher in the off season. To the left in this photograph are the Foti brothers who were the heart and soul of Gunthers Bus. With the afro in the center is the phenomenal vocal performer and multi talented key board player, Art Foti, and at the bottom of the grouping is his brother, Carl Foti, who was rhythm guitar player and a superb vocalist who performed touching renditions of the early Bee Gees' hits and the first popular songs recorded by Kenny Rogers and the First Edition.

Performing everything from Tom Jones, Led Zeppelin, Otis Redding, Santana, lengthy versions of Iron Butterfly's "Inna Gadda da Vida" and the entire backside of the Beatles "Abbey Road", Gunthers Bus were critically acclaimed by other musicians and music aficionados for their phenomenal performances covering these rock and roll classics.

Unfortunately, Gunther's Bus was the epitome of an incredibly great band that never achieved any appreciable fame or any serious commercial success beyond headlining nightclubs. Indeed their notoriety at Tony Mart's and the consequent bookings in the Philadelphia area during the winter season represented some of their greatest commercial successes. Those who were fortunate enough to have seen them remember how breathtakingly excellent and exciting they were.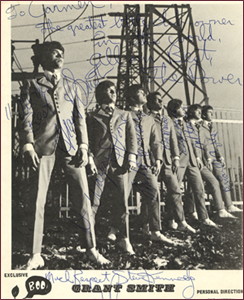 Publicity Photo of "Grant Smith and the Power" one of the greatest funky, soulful big bands ever to appear at Tony Mart's.

Grant Smith and the Power appeared for a lengthy engagement during one season in the late 60's.

They were Canadian and performed popular music by James Brown, Otis Redding and the increasingly popular soul singers from Stax Records in Memphis.

They also performed many of the great, "blue eyed soul" hits from groups such as "The Young Rascals" who eventually became "The Rascals".

Grant Smith was a dynamite front man with all of the slick, fancy moves of "the electrifying style of James Brown" performing as a lead singer in front of this big, horn driven soul band.