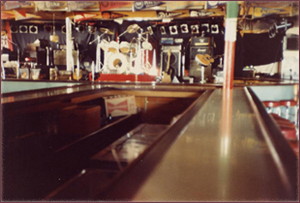 The mid 70's were not kind to Tony Mart's. Changes needed to be made and the next generation of Marotta's, Tony Mart, Jr and Carmen Marotta implemented a major change by removing the central stage and making a large stage against the south wall after removing a portion of the "Main Bar". This photograph taken from the "elbow" of "L-Bar" looking southward shows the large, new stage behind the Main Bar.

Unfortunately, these changes came about in 1976 and 1977 after Tony Mart had become increasingly ill. During this rather dark period in Tony Mart's history, the club was nearly sold in the spring of 1978.That turned out to be a great irony of history. The deal fell through and the club received a tremendous, resurgence in popularity when former front man and performer, Joey Powers, turned booking agent, brought to Tony Mart's a group from Baltimore named "One For All". They had the magic which once again transformed "The Mart" (as it was then referred to popularly) back into a late 70's version of the Golden Years.

Tony Mart's had once again become a popular, exciting nightclub where serious sex, drugs, funk and disco were wildly rampant. This was also the height of the Tri City Era of local Somers Point, Linwood and Northfield celebrants who were then turning 18 years of age.

With just the right combination of seriously smokin' funk, a phenomenal horn section featuring Tommy Head on trumpet, Ray Sidnor on saxophone and the consummate performer, Sammy Dyson on trombone including a perfect balance of serious musicians and "cute", appealing performers, One For All took off, like a rocket, at the Jersey Shore in the summer of '78. Tony Mart's was once again crowded with hundreds and hundreds of people including sizable crowds on week days and a mating frenzy "ladies night" scene on Sunday nights.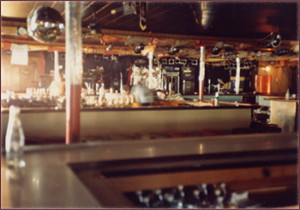 This is another perspective on the new, larger production-style stage where bands such as "One For All" and "The Half Moon Band" performed horn driven funk during the "disco era" at Tony Mart's.

The music of the Commodores, Earth Wind and Fire and the Ohio Players was predominant even though there were also the disco pop sounds of "Saturday Night Fever". One of the songs that would create pandemonious dancing and partying was Ralph McDonald's "Calypso Breakdown" from the Saturday Night Fever album. The song often created wild partying and even a little mayhem when performed by One For All.

Unfortunately, much of the local crowd, after Labor Day, strongly favored rock-n-roll and there was a difficult dichotomy simply explained as "disco vs. rock" generating the often heard complaint that "disco sucks". Nonetheless, some of the greatest nights of the last years of Tony Mart's were driven by the soulful, jazzy, funk and disco music of One For All and other funky horn bands.