Page 2: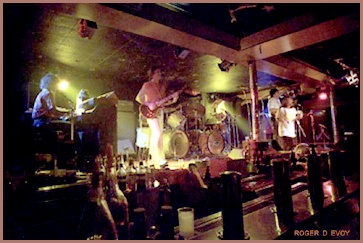 Bruce Balderson: Tony Marts was a great place for music and meeting friends. I was there. I was lucky to get and still have some memorabilia from those great years. Reviewing your website brought back many memorable moments. Thanks.

Johnny Steeb: Went to school at Pleasantville High, we use to cruise by every Saturday night we loved to listen to the music. The Circle Liquor Store was right across the street. It's been a long time now so I am trying to remember, but I think we did go in the and dance once or twice. Also, we went into the Silk Hat which is gone as well. Ocean City was the next stop over the bridge. I trying to remember also if OC had the Blue Law or not..No Liquor..not sure...but they were the days. I was at Pleasantville from 1952-1956. And you are great they were the best years ever..I liked to go back to those days again.
Leon Estep: I played at Tony Marts the last summer in a band called Pressure along with Shotgun. Our big thing was Syd, who did his Jimmy Hendrix set.

Cindy (Regan) Arbogast-Royer: I was a cocktail waitress at TM's in 1970. It was the best summer of my life. I met lots of people and never saw them again. There was a band from Philly, the lead singer was Gregory. If I could find him, I could find some friends, I just don't know last names.

Jack Littley: In the summer of 68, I had just broken up with my long time girl friend. Tony's kept me from dying of loneliness. The summer was great. Gunther's Bus was the headliner. The summer closed with Oliver singing Good Morning Starshine and Jean. I got the girl back, we got married and still are. Thanks to Tony's for saving me.

Joe Seddon: Joe Seddon here, lead singer and guitarist for Plymouth Rock which consisted of Frank Appice on drums (Carmine Appice`s cousin), Ron Lovett on bass, Allen Weber on sax. I played Somers Point during the 60`s and shared the stages with such good buddies as Johnny Caswell and The Crystal Mansion, Ray Sharp and The Soul Set and many more. This is where i met Levon Helm and The Hawks. A great band that later became The Band. At one point i left The Sterling Brothers, my earlier group, featuring myself and Mark Hutchinson, and joined Sam Allen and The Monkey Men. Sam and the guys worked opposite The Sterling Brothers Band at the Satellite Lounge in Wrightstown, N. J. many times. It was fun stuff building that cage, and hard work. My friend Roy Buchanon took my place with the Monkey Men when i left for Hollywood. Roy was my inspiration. I`d visit the old Dick Lees when he was with The Temps and we became friends via those meetings. I was 16 at our first meeting. Dave White from The Mansion was also my producer for Mercury Records along with Johnny Madera. Caswell was also with the label, thus we ended up at Bayshores, The Dunes and Tony Marts. Lots of terrific times, blasting bands and endless fun. Late hours, some wild and crazy people who stomped it out there, and it was magical. Sea breezes and cheap beers! Time has changed much of that but the memories linger. I still record, have several albums online and miss the good old days at " The Mart. " As a matter of fact, i`ll be eating lunch at the Point Diner shortly and walking the boards, passing by what was once the hottest spot at the shore. My best to all who worked there. " Joe

Drew Antonelli: I tended bar for Tony 1967 thru 1970, some of the greatest memories I have ever experienced in my lifetime, thru a very trying time in our country. Ricky and The Rockets, The Fenderman, Gunthers Bus, and many more house bands that Tony would bring in , they were all great Rock and Roll bands and could make a big name for themselves as long as they followed Tony's mentoring as to What to play , how loud, soft or long to play, and believe me if they did not listen to Tony they were not there long. Tony had a real feel for what the customer wanted and that was evident every night the place was packed. I did not stay in the business but if you learned from Tony Marotta you received a Masters degree in "Club" . He was a wonderful man that I admired and is often in my thoughts and prayers. I am so glad that Carmen is keeping his name going.

Michael "Slammer" Lord: Just like everyone else on here, my fondest memories were nights spent at Tony Mart. I will never forget, getting right up to Carmen's bar, a fresh Alabama Slammer sitting there waiting for me, listening to the bands so loud that I still have hearing problems (probably more from old age though). To this day, there has never been a better bartender then Carmen. I remember being there on the final night, as sad as that day was. I was allowed to take a bar stool and several other pieces of memorabilia as well as many of my friends did. Carmen, your place was legendary, and too me, you'll always be a legend. My Grandmother, my Mom and I had all spent time there through all the years, and the memories you gave to all of us, can never be repaid!! Always look forward to seeing you again, please keep me informed of what's going on. Many thanks, Michael "Slammer" Lord Sr.

Lee Martin: I worked the last two summers and the last winter at The Mart. We had a great time and I made some life long friends there. I wish I could find some of those others. We were brothers in arms. Carmen and Tony were and are great people. I truly appreciated the way they welcomed me into their home for dinner and nights of relaxation. Mrs. Marotta's cooking was tremendous and The Drag was amazing. The staff was tremendous, Billy D, Slammer, Moon man, Barry "butlick" Bukowski, Chink, Rocky Horrowitz, Dubie, Joycie Wah, Dave, Big Ange (who saved me from brain damage), Suzuki ( a truly inspirational guy), Steve Wright, and of course...... Animal. We had a lot of great times and a lot of great fights.

Saul Shocket: Hi Carmen, my name is Saul Shocket, & I was the sax player for Tito Mambo & the Messiahs of Soul in 1965.We worked across the street at Bayshores, but would exchange sitting with Levon & the Hawks. I worked along side another sax player named Diz Lee, who was an amazing player & mentor to me. Those were incredibly memorable times, & interesting to see how many people share these warm memories of SP/OC days in the 60's. I remember the names of the BS bouncers, as we trained together during the days. Do these names sound familiar? Guy Borrelli, Chris Olson, Denny Lankes, & Ted Stremback. Ok, great site, tnx,& please keep it going. SS

Paul Roselle: I was a bouncer at Tony Mart's in 62, 63, and 64. They were the 3 greatest summers of my life. I loved working for Tony, Pete and Ron Fry. They treated me great! Also I loved our customers. In 1964 Philadelphia magazine came in and did a story on us. We were called crowd control engineers. I always liked Conway Twitty the best. He was such a gentleman. WE WERE THE THE JERSEY SHORE!

Dan Rieck "Cactus Dan": So many good memories of my several years at Tony Marts. Out of college and off to bar tend at Tony's in Spring of 69. Wasn't Poppa happy! In the deep end at the Junior Lounge doing the evening rigorous cleaning, icing, and prep work getting ready for early spring opening. Under the watchful and benevolent eye of Harry Toscano (brother of manager Pete Toscano).And then off to the Anchorage for 7/$1 beer and burger.

Spent most of first season running the service bar and back end of the big Junior Lounge bar.Think it was early 70 when the big disco ball with strobe lights were added. Often did bar setup during the week for late arriving vets like Sonny McCullough (triangle bar); Square Bar (where Mrs.Mart would sit with Tina and the boys after diner at Mac's. Side Bar always had to be just perfect for this is where the Boss would supervise the night's affairs.

Many names flash before: Sonny; Bunny Barton and BIG Jim Zager (from Pittsburgh); Ronnie Quigley; Bobby Walls (always on the L Bar);Eileen Slack as my very capable Lounge table waitress; Freddy "Mart" (Fred Smartley); Frank DiGregorio on the back bar (funnier than Don Rickels); Bernie back in the corner flippin burgers; Pop Dallas across the street.

Later on Tony allowed me to serve as his "assistant manager" after Pete had moved on to driving his Jitney in AC. Always liked Pete and would sometimes join him after hours in Ac at the B&B Lounge on Atlantic for drinks and super sharp cheese. Somehow wound up living in front apartment upstairs with former VHS football bud, Mike D'Domenico. Good times. Rented a sofa for $14/week at Sonny's Bartram Arms.

Developed a sideline of selling flashy neckties and, then, really wild bell bottom pants which we sold to the bartenders and doormen.Not certain that this look was quite what the Boss envisioned.

Always enjoyed sitting down with Tony at the end of a long night and listening to some fabulous stories. Remember his ritual cleansing of tall shell class with repeated scrubbing, rinsing, topping with ice, rinsing the ice and finally topping up with J&B and water. Only drink I ever remember him drinking.

Bands? Always loved Ricky and the Rockets and remember their endless practice of CSNY covers in the afternoon-especially Suite for Judy Blue Eyes. Gunther's Bus and the upside down go go dancers with their heads in the beer coolers. The
Great Brass invasion from Canada of Grant Smith and the Power. Donovan. Cowsills. Sure do wish I had been around a couple years earlier for Levon and the Hawks!!

Still remember Tony's greatest greeting " You .... Bum"

Best regards Carmen! Hope to see you soon.

Dan Rieck

Pamela Sangle: I certainly remember a talented band during the summer of 1969: The Nitetime Sunshine. Does anyone remember this Hippie style band. They were very friendly and I think the lead singers name was Larry. Well, we sure had a ball dancing our heads off and merging in with the big Philly Pa. crowd was cool too They got along with us Jerseyites pretty well. Lot's of fun and great memories for sure! And we got to see "Oliver" He has recently passed away but had a great hit single called "Jean" very nice person too. I remember he asked one of the bar tenders to go over by my nice sister and wanted to ask her for her phone number to maybe get together some time. My sister was flattered but we lived way up in North Jersey and he was on tour and we had to go home the next day. I also remember the fun watching people get into doing the limbo. They had a few contests for prizes once in awhile. Great memories forever!!!!

John King: The first time I ever danced with a girl (other than my mother) was at Tony Marts. I think I was 18. I don't remember the girl's name, but the song was The Cisco Kid by War.

Denise Christopher: Hi my name is Denise Christopher, I was checking out some videos on you tube and found this page. My father Tony Christopher aka Fish, Punchy, whatever his nick name may have Been at the time, haha, enlightened me to his Tony Marts years, working there out in the parking lot and moving up to tending bar. I've heard some stories about Tony Marts, and when they filmed Eddie and the Cruisers. We have the video on vhs of course and a few tony marts coasters too along with a picture in black and white of the tony marts crew, looks like such a fun time! I've seen the movie many times with my dad pointing out this and that in the background! I've heard about Tony, my dad does a great impression of him. Lol. I wish I could have been around that time, there aren't places like that anymore! Glad I can hear the stories though!

Al Noble: I have the distinct honor of being the first guy arrested at the door of Tony Marts for an under age false ID at the beginning of the 1963 season. It was Easter weekend, when the Bar's would open up and then close until the Summer. We came down from College near Philly, drinking warm Beer (Fallstaff quarts, I think), to get drunk, and save money in the bars. Anyhow, I didn't look anything like the picture on the ID. I was thrown in the Somers Point Jail, where I spent the entire weekend, plus a few days. No money to bail me out until my Buddies got back to Philly and the Banks opened up. At the Court appearance the Judge told me to tell all my Buddies that they wouldn't tolerate incidents like this in the future. He fined me $50. After I turned 21 I had many fabulous times at the Point/Dunes. The incident didn't effect my status as an Officer in the Air Force as I was Commissioned and sent to Nam. (They needed Officers then, so were willing to overlook less than perfect records). Anyhow, will always remember those times at the shore as some of the best times of my life.

Ted Cahill: I was in a band called the Magic Mushrooms that played Tony Marts in the Summer of 1966 or 1967. Wondering if anyone is around who was there the, and also wondering if there was any memorabilia left from that time period. I know Tony was around there, our manager was Sonny Casella, and we were out of Philadelphia. We did a lot of the British music before it was released here, and we also kind of tore up the stage at the end of our shows. We were there until we got on Tony's bad side, and walked. I have fond memories living above the bar. It was the ultimate for a 19 year old. Just wondering.

Duke Kiesel: From Pittsburgh Central Catholic High,1945. Visited Bay Shores & TMs/Late 40s early 50s/ Grace Kelly & Lizanne there / bartend. Frank Sheey ?? Friends George/Nancy McAllister home Longport / Married Peggy McSorley / where is Sheehy???

Tom McCloud: It was one of the most memorable & wonderful times of my life. The year was 1970. I lived at the Old A House in Ocean city, worked at Sim's Restaurant where I met my amazing wife of 40 years, drank Harvey Wall Bangers, and danced to great bands every chance I had at Tony Mart's w/ my good friends from upper New York state. We drove to concerts at the Wildwood Convention Center featuring some of the greats like Elton John, Emerson, Lake, and Palmer, Red Bone, Doug Hicks & his Hot Licks, etc. Thanks for the wonderful memories. Your friend forever, Tom McCloud

Kathy Staats Accardi: I loved the show in Ocean City this past Sunday. My parents who are now living in Florida are always talking about the great times they had at Tony Marts. Do you guys have a cd - you were all phenomenal. I have joined your mailing list and are looking forward to future events.

Bob Hoffman: Enjoyed the Tony Marts Allstars on Aug 18th celebrated my 60th birthday. Great show. Are planning to release a cd. Your band is great.

Roger Werner: I was a regular at Tony Marts from 1970-1973 living for two years in Atlantic City and then moving down the coast to N. Wildwood and Wildwood. We spent parts of most weekends at Tony Marts 'The Host of the Jersey Coast' I think was how they marketed themselves on radio. I recall seeing Johnny Caswell and the Crystal Mansion many times. And there was a great house band with a lead singer that did a wonderful Mick Jaggar routine..wish I could remember the name of the band. And then there was Ricky and the Rockets (Ricky who could kick the shit out of everyone in Bayonne New Jersey was part of their introduction...after the hubcap went flying from back stage). In 1972, I dated a girl who was living and working in Ocean City. Her roommate dated one of the Rockets guitar players but I can't recall his name or hers. I met him often and he would give Denise and I tickets to the band's shows when they played a coast venue. One venue was The Stardust in downtown Wildwood. Ocean City was an exciting play in the early 1970s. When I wasn't rocking out at Tony Marts I was getting very drunk at The Anchor (with 7 for 1 this was easy and cheap to do). The memories are so thick I would write about them for hours and honestly, I haven't thought about Tony Marts in almost 40 years. They are important memories indeed.

Jack Canning: 1965 - I recall a Saturday or Sunday afternoon matinee at Bay Shores when everyone was becoming impatient waiting for Tito Mambo to show up for his gig. A boat procession pulled up at the dock behind the place and a coffin was lifted
off and carried in and placed on the stage. The band commenced and during the second or third number the lid slowly lifted and Tito emerged. What a hoot.

Motor cycle "gangs" often showed up at Bay Shores weekend matinees. One afternoon this guy drives right thru the front door and proceeds to rev up his Harley circling the dance floor over and over and over filling the place with choking exhaust while the crowed went wild. Finally the cops arrived to spoil the fun.

One hot and sweaty night when I was underage, the cops raided the place looking for fake IDs. A bunch of us "illegals" headed for the known best exit under the circumstances ... the girl's restroom which had a window at the back of the place you could climb out of and drop into the bay. A short swim under the bridge to a little beach by the parking lot of the Circle Liquor Store was our path to safety.

Around 2AM you would find your car, often not a easy task, and head for the Dunes, bleary eyed and totally under the influence to sweat it out dancing to the loudest music ever coming from the elevated band stand. "Johnny Caswell and
the Crystal Mansion" became the local Jersey band I followed everywhere.

CL: Charles Laudsberry - artist and a bit of a Somers Point historian:

CL: "All the bars in Somers Point closed at 2 AM. Everyone then drove over that rickety bridge on the Longport causeway to the Dunes. The Dunes catered to the late night set and people who worked as waiters, waitresses, bartenders and bouncers. Everyone ended up at the Dunes open past 6 in the morning."

CL: "It was daylight when you crawled out of the Dunes but breakfast was waiting for you at the Point Diner then it was crash on the beach so you could start the ritual all over again or if you were not as lucky...head back to Philly."

Me: My regular pick me up at the Point Diner was a buttered cinnamon bun done on the grill with a double order of bacon. Today my cardiologist is grateful I'm still around to help with his BMW payments.
More Stories:
1
2
3
4