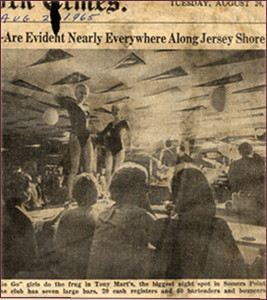 Clipping and photo from the New York Times dated Tuesday, August 24, 1965 with the title "Changes-Some Subtle, Some Abrupt and Flamboyant are Evident Nearly Everywhere Along the Jersey Shore." "Go Go" girls do the Frug in Tony Mart's, the biggest nightspot in Somers Point.
The club has seven large bars, 20 cash registers and 40 bartenders and bouncers.
This photo focuses on two go-go girls dancing on a stand near the bar; however, of greater historical significance are the backs of "Levon and the Hawks" playing on the center stage.
To the right is the back of the B-3 organ and saxophone player, Garth Hudson; and to the left, are the shoulders and heads of Robbie Robertson and Rick Danko in the front of the stage.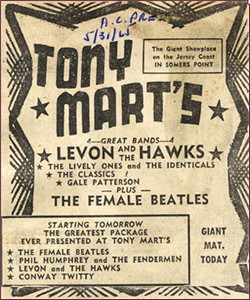 Display advertisement that proclaims that "Tony Mart's Home of the Great Bands in Somers Point brings the greatest package ever presented at Tony Mart's" including the Female Beatles, the phenomenal entertainers, Phil Humphrey and the Fendermen, Levon and the Hawks, and Conway Twitty.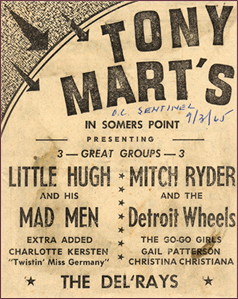 Display advertisement from the Ocean City Sentinel dated September 2, 1965 which lists "Mitch Rider and the Detroit Wheels" as headline performers appearing at Tony Mart's that Labor Day Weekend. Just prior to that time in mid August of 1965, Bob Dylan, himself, and the Albert Grossman organization of New York actually contacted Levon Helm at Tony Mart's. Tony Mart, himself, did due diligence by making the necessary contacts and was able to verify that these calls were truly authentic and that the offers made by Dylan and his management, were, in fact, a terrific opportunity for his beloved "Levon and the Hawks". Sadly and with much disappointment, Tony Mart threw a party for The Hawks, complete with cake, and gave them a wild, rocking send off to Woodstock.

Fortunately, he was able to get rockin' "Mitch Rider and the Detroit Wheels" to replace Levon and the Hawks for the huge Labor Day weekend in 1965.

"Levon and the Hawks" were not heard from for many years in Somers Point until "Music from Big Pink" was released and became an all time rock n' roll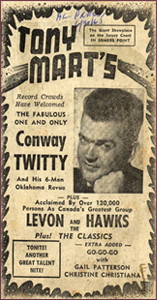 An add from June 30, 1965 in the Atlantic City Press which features a picture and headline of Conway Twitty performing along with "Levon and the Hawks". During an interview with Levon Helm, years ago, Levon clearly explained that it was Conway Twitty with his longstanding relationship with Tony Mart who actually steered "The Hawks" to Tony Mart's and told him " Go see Tony -Tony will put you to work."

This was in the approximate time period of late 1964 to early 1965 when "The Hawks" left their namesake and prior bandleader, Ronnie Hawkins, a famous Canadian Rockabilly performer and returned to Levon's home in the east Arkansas and Memphis area. At that point they became "Levon and the Hawks".