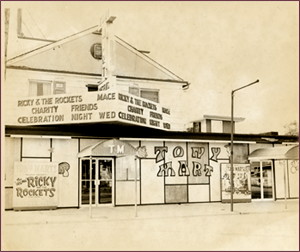 A photo of the front of Tony Mart's with a blow up picture of Ricky and the Rockets on the right and a special sign on the left of "A" door. The door underneath the marquis was the main entrance to Tony Mart's with the door on the right, a secondary entrance. This photograph shows both "Ricky and the Rockets" as well as their alter ego, the contemporary pop band "Friends" on the marquis.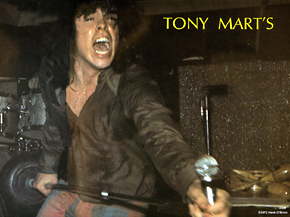 The marquis also promoted the first version of the popular band "MACE" with Tony Cherry as it's front man and lead singer. In addition to performances by MACE and a third band, Charity, the band known as "Ricky and the Rockets" would do their nostalgia show of rock and roll revival hits from the 50's and also perform contemporary rock and roll and pop music as the band "Friends". The apartment behind the marquis was the actual residence of the Marotta Family until the construction of a home, just north of Tony Mart's across George Street, completed in the spring of 1964. This picture was first published in the 1972 Atlantic Community College Yearbook. Group pictured: MACE.

Photo by: Hank O'Brien from Somers Point
"It was great working for Tony & Carman Mart. The great bands we worked with were so wonderful. Alotta sweat but, the crowds were great there. I'm 66 now but, I think back & just smile about those times. Donny & Buzz are gone now, leaving Jeff, Kenny & me. Well love u all & thank u Tony & Carman God bless!" ~ Tony Cherry, 7/6/2017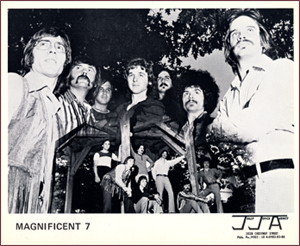 A promotional photograph of the Magnificent Seven.

This was another of the horn-driven big bands that appeared during the early 70's.

These bands were also performing the popular music of Chicago and Blood, Sweat and Tears as well as, Funk, Soul and the R & B Rock and Roll sound of Memphis, featuring the music of artists such as Wilson Pickett and Sam and Dave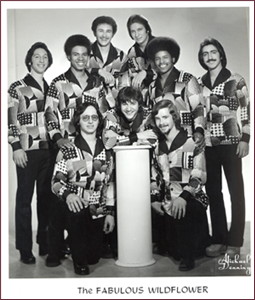 This is a glossy publicity photo of another excellent soulful big band, "The Fabulous Wildflower".

During this period at the end of the 60's and the early years of the 70's, these soulful big bands were very popular.

This band was one of the first bands with African Americans, to appear at Tony Mart's. "The Fabulous Wildflower" was very entertaining and popular. They performed high energy, funky dance sets featuring excellent horn arrangements and a driving rhythm section.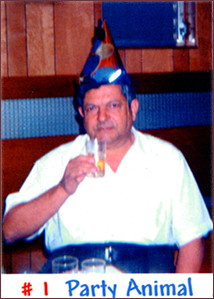 A wonderfully tongue and cheek portrait of the man who created all of this, Anthony Marotta, Sr.